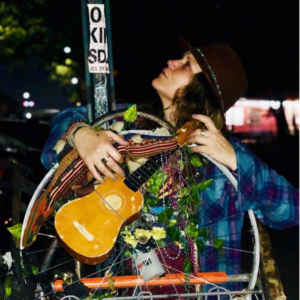 My  work and study is directed towards enriching day to day life by creating a contemporary relationship with building personal totems, ceremonies and reintroducing the ideas of creative ritual by creating and holding space for the inner artist/magician/mystic/priestess to thrive. 
To celebrate everyday illuminated adventures and nurture the divine connection within the collective spirit & our collective histories….
< < charms and spells of intention > >
Create Your World
create your own magic:
Green Guide for Artist &  The Complete Guide to Altered Imagery
–     –    –    –    –    –    –    –    –    –     –    –    –    –    –    –    –    –    –     –    –    –    –    –    – 
Karen Michel is a mixed media Artist and Author who creates work from recycled and repurposed materials, mojo and sunshine. Born & raised in New York, she escaped to the mountain desert for a moment in time and has since returned to the sea shore. She ran a not for profit visual art center for kids for over 12 years and has taught mixed media art workshops throughout North America.
When not creating, you can usually find her & her 2 little ones hunting for seashells and buried treasures.
the last name? it's pronounced (me-shell) ★ instagram: @karenmichel ★ pinterest
A Selection of Previous Workshop Venues ~
Artfest, Port Townsend, WA  | Art & Soul, Portland, OR & Hampton, VA | Sedona Arts Center, Sedona AZ | Art Unraveled, Phoenix, AZ | Artfest Annex, Seattle, WA | Idyllwild Arts, Idyllwild, CA | Hacienda Mosaico, Puerto Vallarta, Mexico | The Artbar, Santa Ana, CA | Creative Art Space, Lynbrook NY